As the world becomes more conscious of the need for sustainable solutions, companies like Spark are stepping up to offer innovative products such as solar panels, radios, and lights with batteries. However, efficient packaging is also essential to ensure these products arrive safely and ready to use.

At Asiapack, we are committed to providing sustainable packaging solutions for companies that are leading the way in environmental innovation. One of our key customers is Spark, a company that is dedicated to bringing clean energy solutions to rural areas around the world. We are proud to work with them to provide packaging materials and kitting services for their products, which include solar panels with batteries, radios, lights, and more. Through our work together, we're able to bring life-changing products to communities that might otherwise lack access to reliable, renewable energy sources. In this article, we will explore our partnership with Spark and how we are contributing to a cleaner future.
About Spark
Spark was founded in 2013 and focuses on developing and distributing affordable and sustainable energy products for off-grid and underserved communities in developing countries. The company's products include solar home systems, smart meters, and energy storage solutions that are designed to be affordable and easy to use. Spark aims to empower communities by providing them with access to reliable and affordable energy solutions, which can have a significant impact on their quality of life. By leveraging innovative technology and business models, the company seeks to create sustainable energy ecosystems that can drive economic growth and social development in rural areas.

Overall, Spark is a mission-driven company that seeks to address the energy access gap in rural communities through innovative and sustainable solutions. With its focus on social impact and environmental sustainability, the company is well-positioned to make a positive difference in the lives of people in underserved communities around the world.


The Partnership between Spark and Asiapack
Asiapack receives all products from Spark and provides all packaging materials, then kit the products into the packaging on demand. This allows Spark to focus on what they do best - providing clean energy solutions to rural communities - while Asiapack takes care of the packaging and logistics. Asiapack's kitting services also ensure that the products are packaged efficiently and securely, reducing the risk of damage during transportation.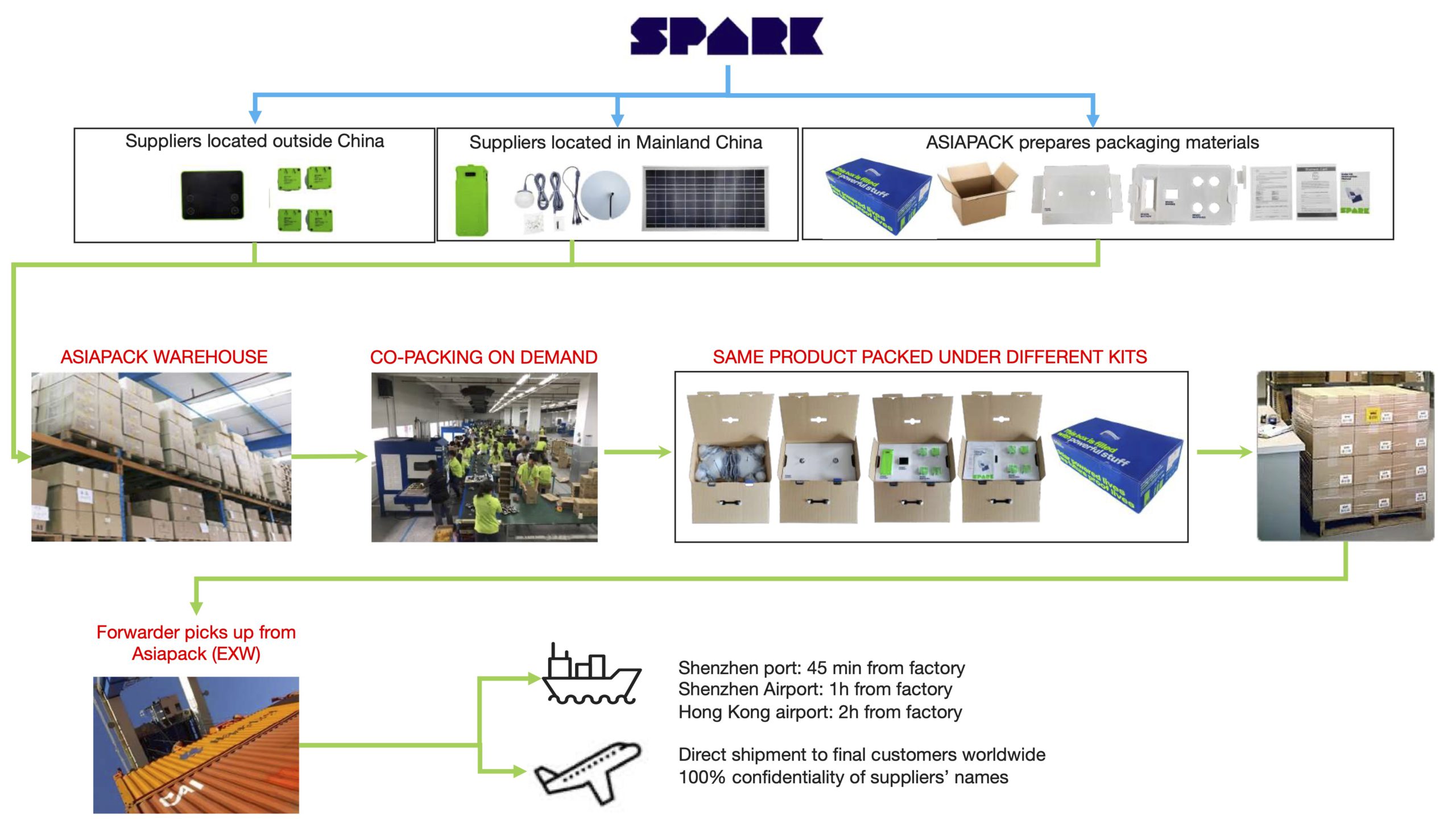 The partnership between Spark and Asiapack has several benefits, including:
Faster and more efficient distribution of clean energy solutions to remote areas.
Reduced packaging costs for Spark.
Improved packaging quality and reduced risk of damage during transportation.
Streamlined logistics and reduced lead times.
Asiapack's services have helped Spark provide quality products and achieve its mission of providing sustainable solutions. The efficient and sustainable packaging provided by Asiapack has reduced the risk of damage to Spark's products during transportation, ensuring that they arrive in excellent condition. Asiapack's customizable solutions have also helped Spark optimize its packaging process, reducing packaging costs while ensuring that products are packed correctly and efficiently.
How Our Partnership is Making a Difference
The partnership between Asiapack and Spark is a testament to the importance of sustainable energy solutions and eco-friendly packaging practices. Asiapack is committed to providing customized, efficient, and eco-friendly packaging solutions that ensure Spark's products reach their destination safely and sustainably. We are proud to be part of the solution in promoting sustainable energy access and reducing the carbon footprint.
---
Conclusion
In conclusion, Asiapack is honored to be one of Spark's key customers, providing custom packaging solutions that cater to their unique needs. Our partnership has enabled us to develop tailored packaging solutions that ensure every product is packaged securely and ready for delivery. If you are looking for high-quality packaging solutions that are both effective and environmentally friendly, look no further than Asiapack.